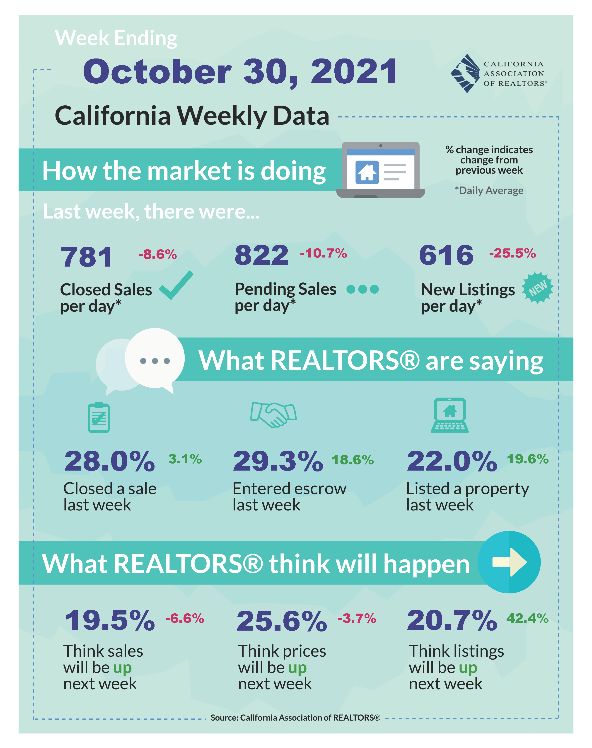 Most of the economic news is positive and California has made more progress down the road to economic recovery. Some positive trends continued to get better while some negative trends started to lose momentum. There is even evidence that the housing market in California has begun to stabilize around what are expected to be the medium-term levels. However, interest rates have risen significantly from the first half of the year and the coronavirus, although avoiding a significant ramp thus far, is likely transitioning from pandemic to a lasting endemic with numbers that remain persistently high as we enter a new normal.
Unemployment Claims Fall to 82-Week Low in California:As the Pandemic Unemployment Assistance program and extended traditional unemployment insurance benefits come to an end, the number of continuing claims for unemployment in California dipped to an 82-week low of 461,609 last week. This is the first time continuing claims have been below 500,000 since March 2020 and signals that more Californians continue to get back to work as the economic recovery progresses.Although the monthly unemployment rate held steady at 7.5% in September, this was due to some 30,500 previously discouraged workers reentering the labor force.
Modest Economic Expansion in Q3:The economy showed more signs of recovery with an increased in real gross domestic product (real GDP) during the third quarter of 2021. However, the 2.0% annualized increase was much lower than consensus estimates leading some, like Wells Fargo and UCLA to downgrade their forecasts recently. Indeed, this marks the second consecutive deceleration in the economic recovery, which has been plagued by inventory/supply chain constraints, expiring government stimulus programs, and a resurgence in coronavirus during the third quarter. The economy continues to make progress, but the road to full recovery continues to face obstacles.
Mortgage Applications Decelerating?:Unfortunately, the number of prospective homebuyers applying for new purchase applications continues to dwindle from 2020 levels with last week representing the 23rdconsecutive weekly decline. However, there is some encouraging signs that the buyer retrenchment occurring after the surge during the summer of this year is beginning to lose momentum. Applications have fallen by less than 10% compared to last year for the second time in the past three weeks. In fact, despite falling on a year-over-year basis, the purchase index remains well ahead of 2019 levels suggesting buyer demand is more robust than the annual percentages imply.
Market Finding Stability, But Far From Cool:The number of properties receiving 4 or more offers has been moderating, according to results from our latest survey of REALTOR® members. Last week, 49% of respondents reported that their last transaction had at least 4 offers, which is down from nearly 72% this May. However, the REALTORS® also report a market that is far from cool as roughly half of members still had more than three offers on their last closed sale.
REALTORS® Report Improvements in Business & Optimism:Despite entering the winter doldrums, REALTORS® reported an uptick in business activity across the board last week. More members reported going on listing appointments (35%), listing a property (22%), entering escrow (29%), and closing a sale (28%)—all four of which represented an improvement from the previous week. In addition, the members surveyed last week thought the future looked brighter with an increase in the share of respondents that expect inventory, sales, and price increases all going up.
Rates Continue to Rise:Amidst a week of relatively good news, the housing market suffered through its third consecutive weekly increase in mortgage rates, which hit 3.14% according to Freddie Mac's survey. This is another 6-month high and will likely push the October monthly figure above 3% for the first time since July. Rates are still attractive by historical standards and the 10-year was stable last week, so C.A.R. is still confident in its forecast of gradually, rather than rapidly increasing rates, but significant retrenchment is not expected either.