How to Create Your Personalized Property Search. Did you know by using our New Website's Search Options, it's easier and more accurate than using home searches like Zillow and more customizable than looking on REALTOR.com? There is no obligation when you sign up for my searches, and I'm always a phone call away to answer your questions.
Here's how to Create Your Personalized Search Option
Click on a listing in this section to find out more about the property listed by my office, California Lifestyle Realty. If you like it, let me know if you'd like more information or set up a time to live stream the listing from the comfort of your home.
Featured listings from California Lifestyle Realty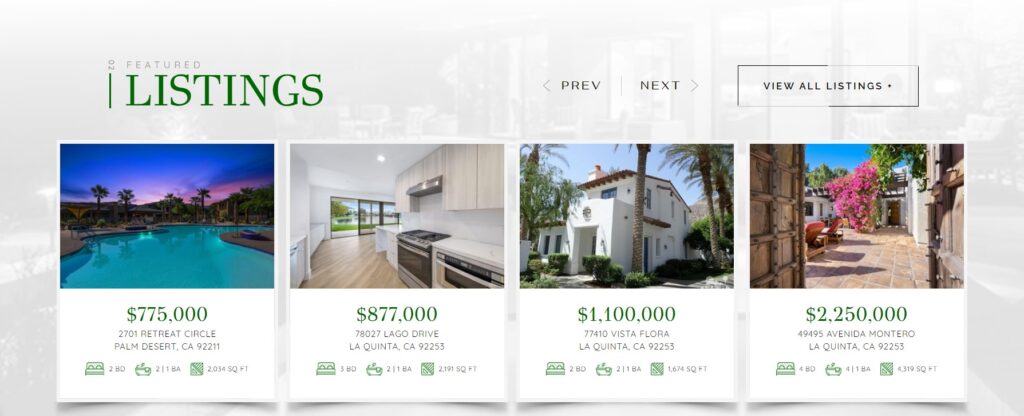 Interactive Map of the Coachella Valley
Would you like to see the Active Listings in each Golfing Community? Click on the map below to open a list of Golf Courses and to find the available listings on each course listed. Be sure to let me know what questions you have or if you would like or would like to preview the listing through a Virtual Showing.

Search by Desert Community
Looking for an up-to-date list of homes listed for each City? Click on the City Image below to open a list of available properties. Be sure to call me with any questions or if you would like to line up a time to view your choices through a video chat.
Also included on each City page is utility information as well as City Facts.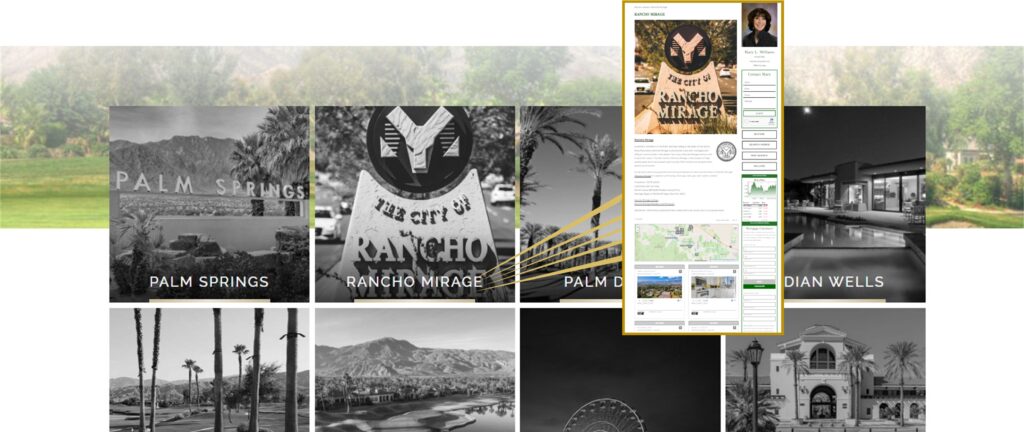 Best for Last – Advanced Property Search Option
Fill out the online search form with the things you're looking for in your new home in the Desert and click search. At this point, you have the choice to receive email notifications on this search, just fill in your name and email address. However, you can click "not now" and the popup will disappear.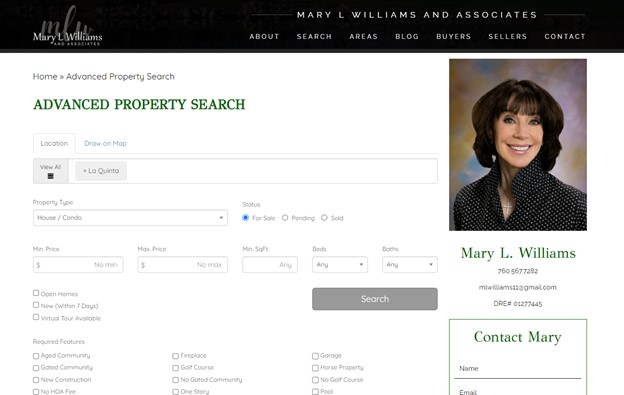 If you like your personalized property search after you create it and would like to save it, click the "star Save this search" in the right-hand corner and this will give you a choice to register yourself as a user of our website. After registering, you will receive a confirmation email instructing what to do next.

By registering on our website and within your search parameters, you will get instant notification of new listings or changes in the listings within your search parameters. This is very important when the market is hot and you need to act fast to get the home you want.

If you do find something you like and want to look at it or have questions, call me immediately at 760.567.7282 and we can set up a video conference. You may also message me in the "Contact Me" in the box in the slider on the right side of the page.

And by all means, let me know if you are having problems signing up for a search or navigating this site. I'm always here to help you on any occasion.