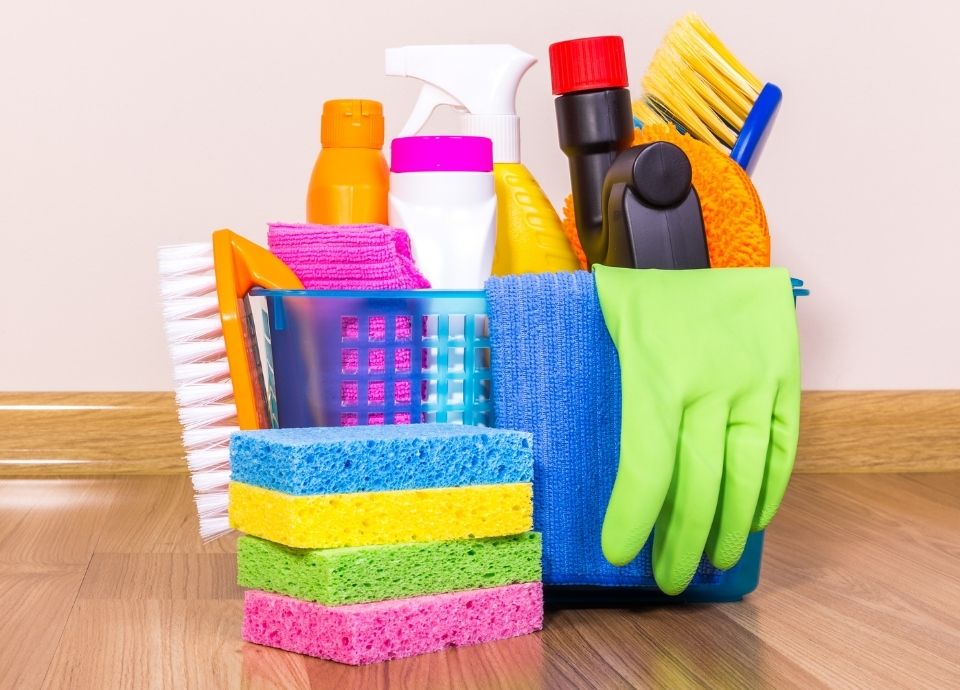 Did You Look Under Your Stove Vent Recently? Whether you have just moved into your home in the Palm Springs or La Quinta area, lived in your Desert home a while, or are thinking about cleaning your home to list, there are many ugly places you may not even think about cleaning.
The maintenance and cleaning pros have given us some of the most disgusting jobs that we need to be cleaning; they are among the most important, and one of them could even be a lifesaver.
Gritty undersides of rugs
Slimy garbage disposal
Greasy stove vent hood
Crumby kitchen corners & crevices
Dusty fans and ceilings
Icky toilets
Rubble-filled crawlspaces
Clogged dryer vents
1. Gritty undersides of rugs
Even though you may vacuum regularly, you might be surprised about what you will find under your rug; grit and dust might appear.
What should you do:
Roll the rug halfway and vacuum its underside, then roll the other and no the other half. Sweeping and mopping the floor underneath will help too. 
If the underside of your rug is free from staining and discoloration, then clean the floor, and the bottom of the rug should be enough. 
If you find discoloration or staining from your children or pets or the glass of wine you had a few days ago. You might want to hire a professional to finish the job. 
2. Slimy garbage disposal
Did you know that your kitchen has more germs than any other room in your house? This is because your garbage disposal has splash guard flaps that protect the drain; under the flaps has old food and winds up becoming smelly, slimy, and contaminated with the germs left behind.
What should you do:
Take an old toothbrush and warm, soapy water and scrub the bottoms of the flaps. 
Using a 1:1 ratio, pour white vinegar and baking soda down the drain. After letting the concoction sit overnight, flush it down the drain with boiling water to sanitize the drain.
If you want to sanitize and sharpen your disposer blades, you can freeze white vinegar in ice cube trays and then toss them down the drain while the disposal is running. 
If you want a fresher scent, you can use a citrus fruit, for instance, lemon. Slice them up and throw them in; the citric acids will help with the smell and disinfect. 
3. Greasy stove vent hood
The vent hood on your oven collects smoke, steam, and grease every time you use it. This can cause a build-up, and if there were to be a grease fire, the vent could spread the fire into your home's ductwork. Cleaning your vent filter will make your kitchen vent work more efficiently, a safety measure!
What should you do:
Read the directions to your hood filter and remove it. You can search online if you no longer have the manual.
Find a kitchen-grade degreaser, and soak the filter in the solution; when most of the grease is gone, rinse the filter in a soapy water mixture.
While the filter is soaking, clean the inside of your vent hood; use the same kitchen-grade degreaser for the hood that you use for your filter.
Use a sponge or a towel to wipe out the inside of the hood.
4. Crumby kitchen corners & crevices 
Even if you clean your kitchen so that it is spotless on the surface, the nooks and crannies still get filled with crumbs and drips of things that have fallen into them. Look next to and behind your appliances and behind your sinks. The crumbs and drips are a temptation for bugs and vermin.
What should you do:
If your appliances have a bit of room underneath, for instance: your refrigerator or your oven, you can use a vacuum crevice underneath to suck out the dirt and dust. 
If there isn't much room underneath your appliances, you can use a microfiber cloth by attaching it to a yardstick with rubber bands. Slide this under the appliance and beside it, and this will grab the debris. 
A feather duster works well too. You can use this under and beside your appliances. There are feather dusters with extra long handles, and then dusters are explicitly meant to slide under the appliances.
5. Dusty fans and ceilings
The old saying "out-of-sight, out-of-mind, does not come into play when it comes to fans and ceilings. Your fans and ceilings hold discarded skin cells, dust mites, and outdoor allergens. Even though you can't always see these, they are there, and once they are removed this helps with better indoor air quality and fewer allergy problems.
What should you do:
You can use a pillowcase to clean it blade. Dampen the pillowcase and slide it over each blade, making sure to grab the dust before it falls on you. 
If your ceiling fan isn't extremely dusty, you can use a microfiber duster to clean the blades.
For extreme build-up on ceilings, most often in the kitchen or bathroom, use a flat mop tool with a microfiber or soap cloth attached. Dish soap works just fine.
If your ceiling fixtures have light shades or covers, remove them and wipe out the dust and bugs. Make sure to turn the light off first.
6. Icky toilets
If you're not scrubbing the bottom of the toilet where it meets the floor, you're not cleaning it.
What should you do:
Make sure the caulking at the bottom of the toilet is still sealing the toilet to the floor. If it is not doing its job, you can remove the old caulking with a knife. After removing the old, replace it with new. If you want extra germ-fighting, you can use caulking with Microban. 
You can use a sponge or microfiber cloth to scrub around the toilet's base. A feather duster can be used at the back of the toilet to remove any dust. 
7. Rubble-filled crawlspace
The only things that want to crawl around the crawlspace are bugs and rodents. However, it is good to check your crawlspace once a year to check for debris or water leakage. If you suspect that you have an animal in your crawl space, call a professional to check it out.
What should you do:
Make sure to wear protective equipment when cleaning this area. You can wear a dust mask, gloves, goggles, and something to cover your clothing, such as coveralls. 
If you see mold, make sure to call a professional right away, don't leave it!
Make sure that you don't have any standing water; this could be coming from pipes or gutters and is a great way to start mold. 
Make sure to clean up all trash and debris and get rid of it through the nearest access point. Before taking the trash to the trashcan or the curb, make sure to shut all doors and entrances so that nothing else will climb or blow in. 
8. Clogged dryer vents
Did you know that clothes dryers cause more than 15,000 structural fires, injuring 400 and killing 15 people on average every year? So cleaning your clothes dryer's lint trap and vents is one of the most essential dirty jobs there is. It will help to extend its life and efficiency; it can also help to save your life.
What should you do:
To get rid of the dust and lint that builds up in your dryer vent, you can buy a dryer vent cleaner that snakes through the vent to clean it out. 
Your vacuums crevice tool can be used to suck out the leftover dust in the lint trap.
Make sure to get around and under the dryer to clear out any remaining dust.
AND there could be even more!! Here is an additional list found on Thumbtack, "25 things in your home you (probably) forgot to clean." Thumbtack is an app you can use on your computer or your phone to find someone to clean or to do odd jobs. It gives you a list of vendors from electricians to house cleaners, their rates, as well as reviews. If you need someone to get your job done, you may want to look into Thumbtack.
However, if you are considering selling your Coachella Valley property, call me! I AM your neighborhood professional!