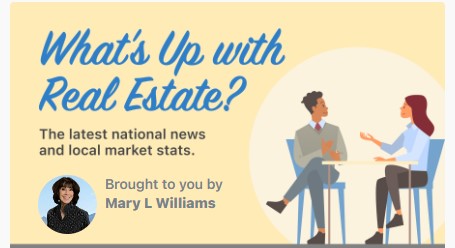 Real Estate News in Brief – Existing home sales jumped in February, the first increase in 13 months, as buyers took advantage of 30-yr rates that were briefly near 6% in January. An inflation-focused Fed raised rates for the 9th-straight time, but suggested a pause from here is possible.
In spite of global bank failures — both real (Silicon Valley, Signature) and narrowly avoided (Credit Suisse, First Republic et al.) — the Fed chose to raise rates by another 25 bps (one-quarter of 1%). But Fed commentary was notably less hawkish than before.
So is the Fed done with rate hikes? The bond market wanted to believe it, with bond prices rising sharply and sending average 30-year mortgage rates below 6.5% for the first time since early February.
Highly inflectious!
A very, very important inflection point: existing home sales jumped 14.5% MoM in February 2023, the first MoM increase in 13 months and the biggest monthly percentage rise since July 2020. But prices fell on a YoY basis (a modest -0.2%) for the first time in 11 years. [NAR]
Competition is back.
The Realtor's Confidence Index for February 2023 showed a continued increase in competition levels, with the average number of offers per property sold rising from 2.5 → 2.7 and nearly one-quarter of buyers waiving the appraisal contingency. [NAR]
But sellers are still willing to negotiate.
A Redfin study found that over the last 3 months, 45% of sellers agreed to some type of seller concession: paying for repairs, closing costs, or mortgage points in order to get the deal done. [Redfin]
New home sales for February came in at an annualized rate of 640,000, only 1.1% above the revised January figure of 633,000. The median new home price was $438,200, up 2.5% MoM. [Census Bureau]
A Big Jump in Existing Home Sales
Turning points are important, and this was a big one. February 2023 existing home sales rose 14.5% MoM, snapping a 12-month streak of declines. On an SAAR (seasonally-adjusted, annualized rate) basis, sales were 4.58 million, compared to 4.00 million in January 2023. [See graph below.]
Let's put this in perspective. In 2008, 4.1 million homes were actually sold. In 2012, 4.7 million homes were actually sold. In other words, if January 2023's pace of sales was reminiscent of the housing crisis lows (2008), February 2023's pace of sales recalled the post-crisis recovery (2012).
Here were some other items that we found interesting from the NAR data release:
Median prices dropped YoY for the first time in 11 years. Can you guess how much they fell? 0.2%. And a lot of this has to do with the mix of properties as lower-priced homes are selling quickly.
From their highs in June 2022, median home prices are now down 13%. Median prices usually decline in the fall/winter, but this was more than seasonal.
57% of the homes sold in February were on the market less than 1 month.
Total housing inventory was flat at 980,000. While that was up 15% compared to February 2022, it's still well below pre-crisis levels. And if you strip out pending sales, active inventory was just 578,000.
"Conscious of changing mortgage rates, home buyers are taking advantage of any rate declines. Moreover, we're seeing stronger sales gains in areas where home prices are decreasing and the local economies are adding jobs. Inventory levels are still at historic lows. Consequently, multiple offers are returning on a good number of properties."

– Lawrence Yun, NAR's Chief Economist
Curious about selling your home this year? Give me a call and let's discuss what your options are!
Article and images provided by ListReport