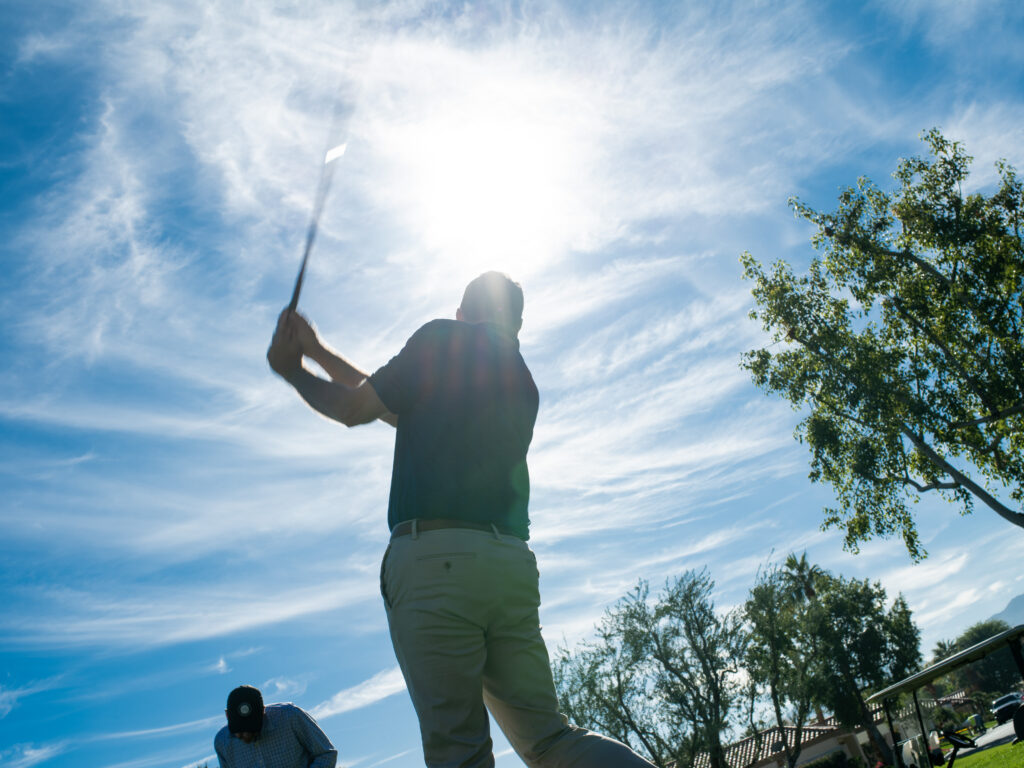 Summer is HOT in the Desert and you'll really understand HOT when you go out to golfing in the Summer. (How can you NOT golf while you're in the Desert even when temperatures are close to 115.)
It can be dangerous to sprint out in these temps, but there are smarter and safer ways to make your rounds of golf.
LA QUINTA WEATHER
Tee off EARLY – even before 8:00 am.
Take and DRINK lots and lots of water. Hydration is key from heat exhaustion and cramping. Damp towels around the neck also sooths. Oh, save the alcohol until the 19th hole. Alcohol will dehydrate you no matter how much you consume. Water (6 to 8 bottles) and 2 to 3 bottles of sports drinks are the best and safest drink on the course. Oh, and take snacks, too.
Take Breaks in the Shade.
SUN SCREEN – lather it on! If you don't want to have your grips slide – use spray or wipes, but use it. Don't forget lip balm and a hat, too!
Wear light colored, loose fitting clothing. Light colors reflect the heat and cottons will help evaporate your sweat. It doesn't hurt to bring some towels to soak in water and drape around your neck. Towels also come in handy when sitting on vinyl seats.
Use a cart. Catch up on your exercise later in an air conditioned gym. Carts will give you added shade and save you from the risk of heat stroke.
Keep your cell phone handy. Just in case you problems arise, it's best to have it handy for a quick call for help.
You can't beat golfing in the Desert whether it's during our lovely winters or blazing summers. Contact me today to find out how you can golf more in the La Quinta and Palm Springs area with a vacation or 2nd home.
You know, once you're here, you won't want to leave!