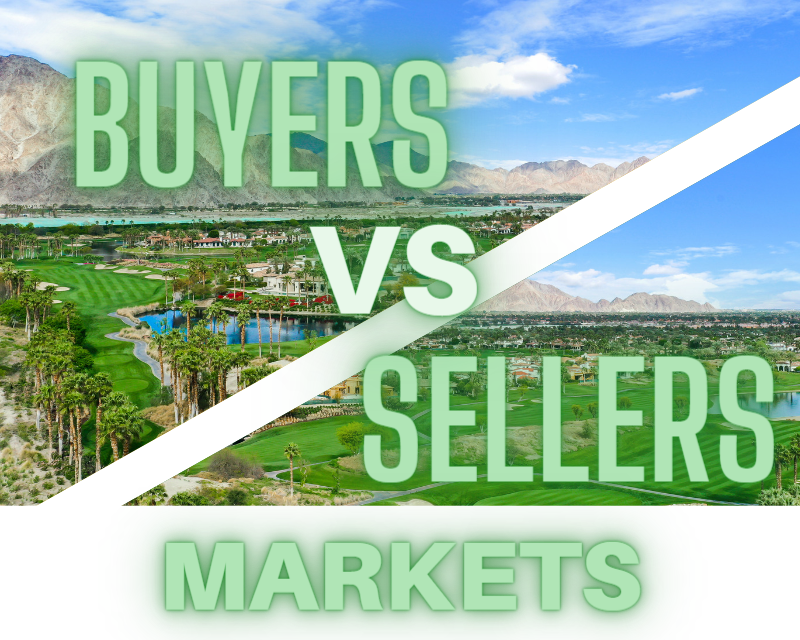 What does it mean to be in a "Seller's Market"? Let's review what the difference is between a Buyers' Market and Sellers' Market:
Buyers' Market: There are more houses on the market than Buyers. (Favors the Buyers)
Sellers' Market: There are more Buyers than Houses in the Market. (Favors the Sellers)
It would be best to look at the Days on Market for either of these types of markets. If "DOM" is 5 to 7 months of inventory, it would be a "balanced market." If the "DOM" exceeds seven months of inventory, it would be a "Buyers' Market." Less than five months of inventory on the market would be a "Sellers's Market."
How can you tell what market we're in now in the Desert?
My last month's newsletter had our DOMs between 24 and 35 days, with the median DOMs as 48 days. This is a very short time on the market which would make it a "Seller's Market."
Lawrence Yun, Chief Economist at NAR, says:

"Inventory levels are still at historic lows. Consequently, multiple offers are returning on a good number of properties."
So, what does this mean if you're a Seller? Home prices are increasing, and our listing inventory is at a historically low; this would be a great time if you want to sell your home in Coachella Valley; this is a great time!! AND there are still buyers who are in a great position to purchase your home!
Benefits of listing now:
Less competition in the market.
You may receive multiple offers with a lot of interest.
Home prices are still going up
If you've been considering selling your home in the Desert, let's discuss your options in today's real estate market. I have buyers lined up to purchase now, and I would love to show them yours. I make sure my buyers are financially rock-solid to move forward with a purchase – and it could be your home. Call me today, and we'll go over your next steps once an offer is accepted because it could go very fast.